Edit: (psst! this blog is constantly being updated with new Instagram updates that have been implemented since the original posting.)
Instagram is constantly changing, adding new features, switching up their algorithm and all around just keeping us on our toes! Because of its constant changes staying on top of all the new Instagram updates can be daunting, so I've put together a list of 30 new Instagram features you may not know about and how to use them!
Keep in mind that Instagram is notorious for rolling out (and sometimes removing!) their features randomly and without any predictable order so if you don't have any of the features I've listed, stay patient – they're coming your way!
---
Following Categories & Filtering Options
This new Instagram update makes it easier to manage your following and keep tabs on who you interact with the most and least! If you navigate to the list of people you're following, you'll now notice some new additions.
1. Two different categories: 'Least Interacted With' and 'Most Shown in Feed'2. A small two way arrow icon that allows you to sort your following by 'Earliest Followed' and 'Latest Followed'
For those looking to interact more with the people they're following, these tools will significantly help you determine who's worth engaging with. For example, the people you've interacted with the least would probably appreciate some likes and comments, and it would improve the chance of your content appearing within their feed!
8 Ways to Increase Your Instagram Following
Hidden Likes
You may have heard the news, or this change may have already happened to your account, but Instagram is testing removing the amount of likes your posts get! This change is visible to all visitors of your feed, however you personally will still be able to see the like count when you check your post insights.
Instagram has stated that this change is to help with the overall mental health of its users by taking away the importance of vanity metrics.
I've written a full blog post on this change and how it might affect you and your business here.
Update: as of 2021 you can now choose if you want your likes to be visible or not. You can turn them off for your entire account or just individual posts. Additionally, you can turn off seeing like counts from other creators as well!
To hide likes from all posts (yours and others) go to your settings > privacy > posts and toggle on the 'Hide Likes and View Counts' button.
To hide likes from an individual posts go to the post > click the 3 dots in the top right > select 'hide like count' (you can also specificy to hide likes at the time of upload!)
* Related Post: Hiding Instagram Likes – Is it Real & What Does it Mean for You?
The Arrow Pen in Instagram Stories
One of the best ways to get users to take action within your stories is to draw arrows to areas of interest. For example, drawing an arrow that points up from the bottom of your screen will encourage users to swipe up and drawing an arrow that points to your profile picture might encourage them to visit your feed. With many strategic uses, Instagram decided to add an official 'arrow pen' to your Instagram Stories drawing tools, making it effortless to get that perfect pointer!
How to: simply open your instagram stories camera (by swiping right from your home feed). Take a picture, video or upload an image, then tap the pen tool in the top right. From here you will see a new addition that looks like a small arrow. Click that, then draw a line – you'll notice Instagram automatically adds an arrow to the end of any line.
20 INSTAGRAM STORY IDEAS to boost engagement!
Age Restrictions
Instagram now allows users to set an age restriction for their accounts. I haven't seen many people implement this new Instagram update so far as typically you don't want to limit the amount of people that can access your page. However those that are posting content not suited for specific ages can utilize this feature. (However, content not suited for all audience is likely to be blocked by Instagram already….)
How to: to add this setting to your account, go to your profile, click the hamburger icon in the top right, choose 'settings', 'business', then 'minimum age'. From here you can specify a default age people must be to access your account, or you can set ages based on location.
Creator Account
Instagram has added a third profile option to their current fleet. You can now choose between Personal, Business & Creator. The big difference? Well.. not much. The creator account is geared towards content creators and gives them a slight edge on their account growth by including a new insights feature:
As you can see here, creator accounts will be able to track their daily follower gain and loss. Other than that, the features are quite similar to a business account. Want to know the full ins and outs? Click here to read my Instagram Creator Account – Is it Worth The Switch? blog post. 
* Related Post: The Instagram Creator Account – Everything You Need to Know & If it's Worth Switching!
Dark Mode
If you woke up today with a completely dark Instagram – you're part of their latest beta test! Users with operating systems iOS 13 and Android 10 will be experiencing a darker version of our most-loved social media app.
However some people are freaking out because it's not entirely clear how to switch to and from the Instagram we're used to, and the new, grungier, dark version.
As mentioned, this is only available to users with specific operating systems, but if you have that, here's how to enable/disable dark mode:
iPhone How to: Navigate to your phone Settings, select Display and Brightness, Toggle the Dark option.
Android How to: Navigate to your phone Settings, select Display, select Theme, turn on Dark Theme.
7 Ways to Boost Your Instagram Engagement!
Instagram Email Checker
Have you ever received an email from Instagram telling you you've qualified for verification, your password has been changed, or you need to urgently click this link to save your account from deletion?? I think we all have at some point, and some have unfortunately clicked the link within those emails and mere moments later, notice their accounts have been hacked.
This is your traditional "phishing" scam. The emails are sent by unknown parties that intend to trick you into entering your username and password somewhere, so they can promptly steal it and take over your account.
Instagram has finally realized this is a major problem and implemented a new feature that will help users determine if the email they received from "Instagram" is real or not. This new feature can be found within your settings and will display any emails sent by Instagram in the last 14 days so you can know with certainty if the email is genuine or not.
How to: go to your Instagram profile, hit the hamburger icon in the top right, select Settings, select Security, then finally "Emails From Instagram".
I think this feature will be helpful for many, however some basic spam email suggestions include: looking at the sender email, if it ends in anything other than instagram.com then it's likely spam! Also, Instagram will never contact you about verification or account violations via email – you will ONLY get a notification in-app for these topics.
Stay safe out there and always assume the worst when it comes to emails from "Instagram"!
* Related Post: How to Get Verified on Instagram – The Step by Step Method & Exact Criteria You Must Meet!
Anti-Bullying Profile Restrictions
Instagram has just introduced a new feature called 'Restrict' that allows users to block interactions from users that are likely to spread hate, bully, or are unwanted for any other reason.
This is different from blocking someone because they won't know that they are blocked. They can still leave their hate-filled comments on your account, but no one will be able to see it but them.
The account owner will be able to reveal the comment if they are interested, otherwise "restricted comment" will be in its place and you can move on without being affected by that person's negativity!
How to: if they've already left a mean comment, swipe left on it and select the '!' icon, then select "restrict [username]". Alternatively you can go to your profile, hit the hamburger icon in the top right, select settings, select privacy, select 'restricted accounts' from here you can add any known offenders.
Instagram Stories 'Create' Interface
One of the latest Instagram Updates includes a facelift for Instagram Stories! You can now add Gifs, Countdown Timers, Quizzes, Polls and Q&A boxes with a simple swipe of the finger (because going into the sticker button and choosing them manually before was too hard..)
They've also introduced two new fun Instagram story additions including: 'On This Day' which is something we've seen on Facebook for a while now, where you can relive the past by sharing events that happened on this day, years ago. When you access this feature you'll be able to share posts that you uploaded years ago or mutual friendships that were formed (ie. 3 years ago @alextooby and @latermedia started following each other")
The second new addition is "templates" which are pre-designed Instagram stories that leave empty spaces for you to fill out your answers. For example, there is a template that says "top three accounts to follow" with three empty spaces for you to add your own favorites. Or, "what am I listening to" with 5 spaces for you to add your favorite songs.
These templates add a fun spin to your regular Instagram stories that will allow you to share more of your personality with your audience!
How to: open your Instagram stories camera by swiping right from your home feed or tapping the camera icon in the top right. From here, you'll notice text at the very bottom of your camera and it should default to "normal". Slide this text to the right until "create" is selected. From here you can swipe left on the circles above the text to toggle between all of the options including the two new features mentioned above. When certain options are selected you'll notice a dice icon at the top of the screen, tap that to see different variations of selected feature.
* Related Post: How to Use Instagram Stories – The Advanced, Step-by-Step Tutorial
Hashtag Insights
Instagram just introduced the ability to track exactly how many impressions you're getting from individual hashtags! I think it's safe to say we've all been eagerly anticipating this update since previously we'd get a bulk number of impressions generated from hashtags which makes it difficult to determine what's working and what isn't. This new instagram update will make it exponentially easier to determine which hashtags are working for us and which ones need to go!
How to: navigate to a recent post, tap the 'view insights' button and scroll down to the impressions section. Scroll down to the until you see the 'impressions from hashtags' section. Here you'll see the exact hashtag and how many impressions it brought!
(image courtesy of reddit since I don't have this feature on my account yet!)
Update: it doesn't seem Instagram has gone ahead with this feature. Everyone was so excited but we've seen no development and those that did have the feature at some point can no longer see these insights. Bummer!
* Related Post: Instagram Hashtags – My Top 10 Do's and Don'ts For Getting Quality Engagement & Attracting Followers

* Related Product: Custom Hashtag Research
Removing Followers
No matter what your posting or engagement strategy is, bots and fake accounts still manage to sneak in and plague your follower list (they often come from poorly selected hashtags or engaging with the wrong accounts). These types of followers never like or comment on your posts and are often referred to as "ghost followers". Having too many of these accounts following you can bring down your overall engagement rate and Instagram doesn't like that. When our audience isn't engaging, they think our content isn't very good and they'll limit the amount of people that see it!
Instead of downloading a third party app (which is likely unapproved by Instagram and can damage your account further!) you can use this new Instagram feature manually remove a follower and keep your engagement rate in top shape!
How to: go to your followers list and pick out the account you believe is a ghost follower (this is often obvious based on profile picture, user name or content on their account), once you locate one, click the three dots on the right hand side next to the follow/following button and select 'remove'. Keep in mind doing this will lower your follower count but will increase your engagement rate (totally worth it in my opinion!) 
Gain followers & make money with Instagram
Steal the exact strategy I use to generate $250,000 a year from Instagram!
Instagram Stories Countdown Timer
This is probably my favorite new Instagram update! Within your Instagram stories you can now add a functioning count down timer to help build hype and urgency around anything you want! Countdown timers are a classic marketing strategy that inspires action in a person. I suggest using these regularly to get people excited about what you're up to. Here's a few ways a countdown timer can come in handy:
Announcing an upcoming event / promo / opening / etc

Reminding your audience to sign up for a webinar

Creating urgency for limited time offer that is expiring
Your audience will be able to subscribe to the countdown timer and they'll receive a reminder in their notifications when the countdown is complete!
How to: create a new Instagram story and click the sticker icon at the top of the screen (or swipe up from the bottom). Select the 'countdown' sticker and enter a title. Then choose the date and time your countdown should expire. You can customize the countdown by tapping on the color wheel at the top of the screen. This will cycle through a variety of colors so you can pick one that matches your account, vibe or story!
Post to Multiple Accounts
Have you ever spent a good chunk of time editing the perfect photo, writing a great caption and tagging a bunch of accounts only to realize you're on the wrong account?! Well this new Instagram feature helps solve that problem! Now it doesn't matter which account you're logged in to because you can easily toggle the account you want your post to publish to.
This feature also allows you to publish to multiple accounts at the same time which can make it easier for businesses to share the same message without having to recreate the wheel. Ideally you want to create content specific to each account, however this could come in handy if you want to share a promotional image or update!
How to: create a post as normal, then when you reach the details page you'll see a section titled 'post to other accounts'. Here you can toggle the account(s) you want to publish your post to. 
Alt Text
Instagram's new alt text feature provides users with visual impairments an easier way to enjoy the platform! When alt text is enabled on your images, anyone using a screen reader will be able to hear your image description in detail. You can customize your alt text or have Instagram auto-generate the description. Personally, I suggest customizing your alt text to ensure you have the most accurate description possible. As wonderful as this type of technology can be, it's not always the most precise!
If you've ever researched 'search engine optimization' you may know that the alt text you use on your website can help you rank in search results for specific keywords. Instagram hasn't stated that their alt text will work the same way, but I personally think it's smart to add alt text to all of your photos just incase they do! Imagine including "female photographer taking a landscape photo" in your alt text and your image ranking in the #femalephotographer hashtag without you even using it..?! Now I may be dreaming but you better give me credit if it becomes a reality!
How to: when posting a new photo, select 'advanced settings' and under 'accessibility' you will see the option to add your alt text. If you want to add alt text to a photo that's already published to your feed, navigate to the photo, click the 3 dots, hit 'edit', then tap the 'add alt text' button that appears in the bottom right of the photo.
HOW TO MAKE CONSISTENT SALES FROM INSTAGRAM™
(without thousands of followers!)
This free training will uncover why you're struggling to make sales and how to change that in 4 easy steps.
New Profile View & Shorter Bios 
This new Instagram update is drastically changing the Instagram bios and profiles we've been so used to seeing over the last few years. While some users are reporting an entirely different look with less focus on follower count and more focused on the information (see the first pic below), others are seeing their bios cut in half and the addition of a "more" button hiding the rest of the bio (second photo below). Because of the later change, we now have to prioritize information so that if someone decides not to hit that 'more' button we're still getting our message across!
If you are seeing the shorter bio, you'll want to move some things around to make sure the first two lines of text explain who you are and include a compelling call-to-action.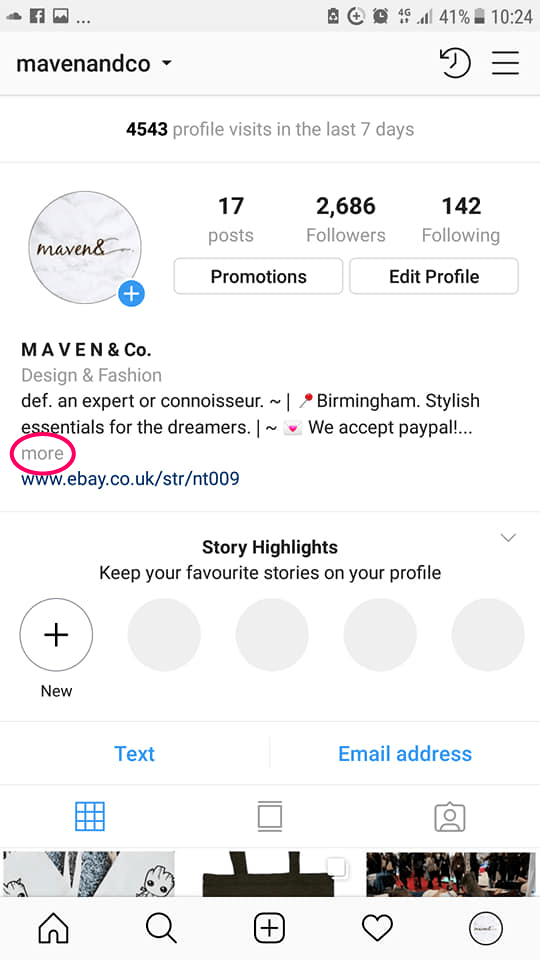 * Related Content: How to write the PERFECT INSTAGRAM BIO & 4 Mistakes to Avoid!
Close Friends 
Reward your most engaged followers with the Close Friends feature! This new Instagram feature allows you to compile a list of people that you can send exclusive stories to, separate from your other followers. You can create a list of your actual, closest friends and start sending each other secret stories, or you can use it with business in mind and put your most loyal followers or past customers onto the list. From there you could send them exclusive offers, sneak peeks at new products, or any other "insider" information you want them to know about your brand!
How to: navigate to your profile and click the hamburger icon in the top right. Select 'close friends' and select the people you'd like to be added to your list. From there navigate to your Instagram story camera and create some exclusive content. When you're ready to share, tap the 'close friends' icon in bottom right to make sure your story goes to those people only! Note: you can make changes to your list at any time and other users (inside and outside of the group) won't be able to see the list.
Top Posts (New Version!)
I think most of us are familiar with the "Top Posts" section when looking at hashtags. Generally this is where the best performing posts within that hashtag live. In the past this section was customized to each person based on the content that Instagram thought you may be interested in. Because of a flaw in the algorithm, users were regularly seeing their own photos in this section which was often inaccurate and made it difficult to understand if your image was actually ranking or not. 
With this new Instagram update the top posts section is no longer limited to 10 posts and displays the same images for anyone viewing it. That means if your content is showing up there, you know that you're truly ranking and may see an increase in engagement and followers!
Sharing Posts to Stories
This feature is definitely one of my favorites and one that has a lot of utility. You can now share any post (yours or someone else's!) to your Instagram story. Not only that, but the image itself becomes a clickable link that takes any user that taps on it, from your story, straight to the image! That makes this a great way to send people from your story to your feed or to send traffic to someone else (and maybe get some in return if they share your posts!)
How to: navigate to the post you wish to share, tap the airplane icon underneath the image and choose 'add post to your story'. This will open up your stories camera with the post embedded. You can edit your story to include text, gifs, locations or any of the other content you typically add. Then simply share it to your story and all of your users can click through to the post!
20 INSTAGRAM STORY IDEAS to boost engagement!
Your Activity
Despite Instagrams usual attempts at keeping you on the app for as long as possible, they've recently added a new feature that shows you the actual amount of time you spend on Instagram per day (down to the minute!) While this may be horrifying for many, it's a great way to track if the amount of time you're on the app is actually resulting in anything. Instagram even allows you to set up a daily reminder that will notify you when you've reached a pre defined time limit. You can also set your standard notification settings here so you aren't tempted to enter the app every time someone likes one of your photos. Thanks IG! 
How to: navigate to your profile, tap the hamburger icon in the top right and select 'your activity'. Note that this new Instagram update seems to only be available for personal accounts (I guess if you're a business they want you on as long as possible!)
Uploading Multiple Images & Video to Stories
This is another one of those features we've all been waiting for! Now you can upload multiple photos and videos to your stories at the same time. Previously you would have to select one image, add all your customizations, share it, then go back into your camera, open your photo album, select another image and repeat. Thankfully this new Instagram update allows you to select up to 10 different photos and images to add to your stories and gives you the opportunity to edit each and every one of them before uploading as a group! 
How to: navigate to your stories camera by swiping right from your home feed or tapping the camera icon in the top left. Swipe up from the buttom of your screen to open your camera roll then tap the multiple posts icon in the top right. From here you can tap on the images you want to include in your story (take note of the number added to each one as this represents the exact order they will be uploaded) and create a new post. Then tap next and edit each slide as necessary. When you're ready tap next again and share to your story!
IGTV
Instagram TV. Instagram released this feature sometime in 2018 but from my point of view, it was a total flop. IGTV is far more complex than the rest of features on this list as it's basically it's own app within Instagram. Traditionally you can upload videos to your feed but they max out at 60 seconds. With IGTV you can upload long-form videos that range from 1 minute to a whole hour! This is cool for many reasons, especially for people who regularly create longer videos for platforms like YouTube, however it has many downfalls that you can read in my blog post here: IGTV What is it and How to Use it!
How to: Watch my YouTube video for a step-by-step tutorial.
* Related Post: What is IGTV? How to Use it and 7 Tips & Tricks for Best Results!
Filtering Your DMs
If you receive tons of DMs like I do, this new Instagram feature will come in handy! Now with just the tap of a button you can easily filter your DMs so you can organize and respond to your messages in a systematic fashion.
How to: navigate to your DMs inbox by tapping the airplane icon in the top right of your home screen. From there you will see  a small icon on the right of the search bar. When you tap that you can choose to display your entire inbox, your unread messages or your flagged messages!
7 Ways to Boost Your Instagram Engagement!
Name Tags
Remember QR codes? Well Instagram is trying to make them cool again with this new Instagram update. They're called Name Tags and they allow you to share your account with others by creating an image that can be scanned, similar to QR codes. While some people see it as an effective tool to use at networking events (in place of business cards), I really haven't seen or found a useful purpose for it in my day to day.
How to: Navigate to your profile, click the hamburger icon in the top right and select 'name tag'. From here you can stylize your name tag and download it to your phone to share with others. You can also use this page to scan name tags. Alternatively you can go to the search tab and select the name tag icon to the right of the search bar.
Apply for Verification
You know that coveted blue check you see next to your favorite celebrities or mega influencers usernames? That's verification and in the past, there was no way for the average person to apply for the same status. Now Instagram has opened up the ability to request verification and if you meet the criteria you could have a blue check on your feed as well!
How to: Read my How to Get Verified blog post or check out my YouTube video here for the step-by-step tutorial. 
* Related Post: How to Get Verified on Instagram – The Step by Step Method & Exact Criteria You Must Meet!
'About This Account' Information
Due to all of the privacy and data breaches Facebook endured last year, it seems like they are now taking strides to make sure businesses stay transparent and accountable on their platforms. If you've ever questioned how someone's account grew so fast or notice a weird username in your feed, it may be because they bought an account from someone else and added new content to it! Instagram (and its users) see this as misleading so they've introduced the 'about this account' feature to allow users to check up on this history of someone's account!
This feature allows you to see the following data about any business profile on Instagram:
Date joined

Country

Active ads

Former usernames

Accounts with shared followers
How to: go to the profile you are interested in learning more about. Click the three dots in the top right of the screen and select 'about this account'. Here you'll see all the details about that particular account. Pay specific attention to the 'former usernames' section as this is where you can determine wether an Instagram is authentic or misleading.
HOW TO MAKE CONSISTENT SALES FROM INSTAGRAM™
(without thousands of followers!)
This free training will uncover why you're struggling to make sales and how to change that in 4 easy steps.
Shoppable Posts
This new feature is a game changer for all ecommerce businesses! Have you seen those post on Instagram that when tapped, show the price of a product and actually lead you directly to the checkout page for that item?! Yes, it's real, it exists and you can have it on your account! This feature is exclusive to people who sell physical products but doesn't require any certain amount of followers (unlike the swipe up feature in ig stories!)
This feature can easily increase your sales but don't forget that adding shoppable tags isn't the only thing that will help. Make sure you're educating your audience about your product and it's benefits in your caption. THEN (and only then) should you ask them to buy by tapping the link your photo.
How to: check out my Shoppable Instagram blog post and YouTube video for the step by step!
* Related Post: Shoppable Instagram Feeds – How to Enable Product Tagging on Your Account & Make More Sales!
Activity Status
Ever sent a message to someone only to not get a reply for multiple days? Well now you can catch them ignoring you with the new 'Activity Status' feature! When you look in your Instagram DM inbox you will see text beneath each users name that states how long ago they were last active on Instagram. Alternatively, you'll see a green dot next to their profile picture which indicates they are on the app currently. 
Now, apart from catching your friends leaving you on "read", you can also use this feature to show your audience that you're active and available to chat. As a business owner you want to make sure your audience has every opportunity to reach out to you. So by having your activity status visible, you create an opportunity for communication. If you prefer not to have your activity status visible you can turn it off.
How to: activity status is automatically turned on for all users, however if you'd like to turn it off all you have to is go to your profile, tap the hamburger icon in the top right and select 'settings' at the bottom of the page. Then scroll until you find 'activity status' and toggle the button to the on or off position. Keep in mind when you turn your status off, you won't be able to see the activity status of other accounts, either.
Data Download
If we've learned anything about Instagram, it's that the platform can be completely unpredictable at times. That's why Instagrams new "data download" feature is such a great addition! If you want to back up your Instagram account to ensure you never lose any the content on your page, you'll definitely want to check this one out!
How to: Go to your profile then hit the hamburger icon at the top right. Select 'settings' at the bottom of the screen, then find and tap 'download data'. Instagram will ask for your email address, which is where they will send a file with your photos, comments, profile information, and more.
You'll eventually receive an email from Instagram with a link to download your data. This data is only valid for four days so make sure you access the files in that time frame or you'll have to request the data again.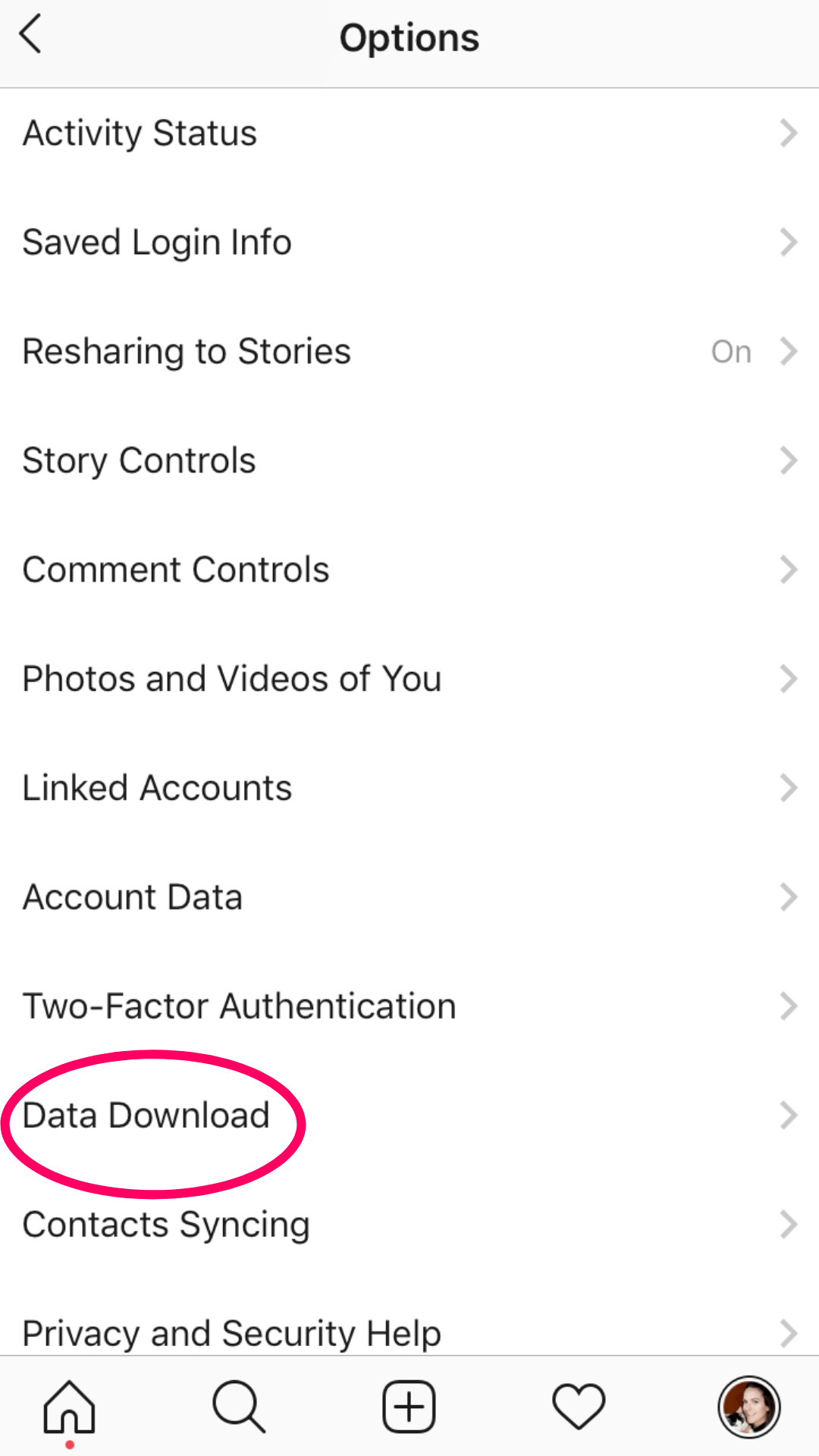 Q&A Instagram Live
By now you may be familiar with Instagram live, but did you know there's a newer addition to the feature that basically combines the Instagram Stories question sticker AND Instagram live?! Yep, answering questions during your Instagram Live just became so much easier! Normally it can be confusing or overwhelming when trying to sift through question in the comments during a live, but now a simple question box appears and interested users can pop their question in and it displays clearly and obviously so you never miss a question. 
Your audience also can clearly see what question you're currently answering, so regardless of when they join the live, they'll know exactly what's going on!
How to: First, you have to post a question to your story, as you normally would. You'll then want to wait a few minutes for some questions to come in, then start your Instagram live by navigating to your stories camera and scrolling over to the live tab. After you start your Instagram live you'll see a question mark icon on the bottom left. Tapping this will reveal all of the questions you have been asked. Simply tap the one you want to answer and start talking!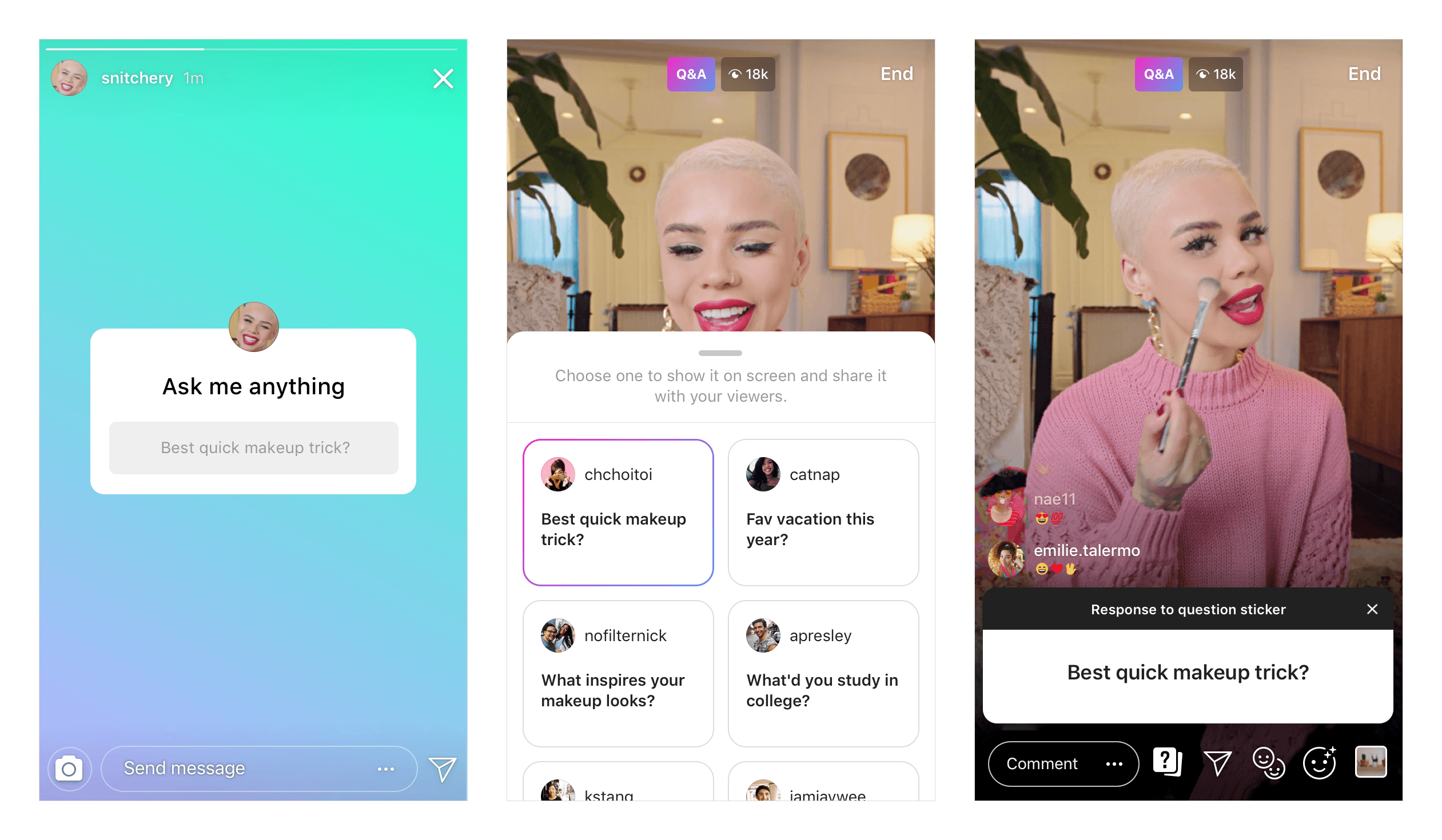 The only odd thing about this feature is that users have to ask their questions via your story and can't actually submit any during the live (unless they type as normal in the comments). This is why it makes sense to wait for questions to come in, before starting the live.
---
So there you have it.. a complete and full breakdown of all of the new Instagram updates! As you know the platform is always changing so I'll be sure to put together another blog when more Instagram features are introduced 🙂
Do you use any of these features? What do you wish Instagram would implement next? Let me know in the comments!