If you've visited my blog before you know I am always talking about Instagram and it's ability to sky-rocket your business. So much so that you may even be tired of hearing it from me (!) So I recently asked one of the students from my course, The Instagram Ivy League to share her Instagram Success Story with you.
Natasha St. Michael is the face behind the stunning Instagram account, @theclearskinessentials. She is a certified health coach who specializes in teaching women how to get clear skin through proper diet and self care. Natasha grew her account from 1,000 to over 14,000 targeted, engaged and profitable followers after taking my course, The Instagram Ivy League, just 4 months ago!
Here's her story:
Tell us a little bit about you and your business
"I specialize in helping women heal breakouts and adult acne naturally through adopting a healthier diet and gentler skin care routine. Programs I offer include one-on-one telephone coaching, and video courses walking you through what needs to be added in and taken out of your diet and skincare routine for clear gorgeous skin."
Before you started The Instagram Ivy League, what were you struggling the most with when it came to Instagram?
"I didn't quite understand what Instagram was, or how I could really use it to grow my business. I had done a lot of research on the internet and was able to set up my account properly and post images, but I found I lacked 'a system.'"
What results did you see from implementing the course materials?
"I joined The Instagram Ivy League on the day I hit my first 1000 followers. 4 months later, I now have about 14.4k followers!
Going through the course and implementing all the instructions, I currently gain 1000+ followers/week. It's also doubled my website traffic, and I get 10-30 new email subscribers/day from Instagram.
I also have to say that I've noticed a significant difference between the quality of web traffic I get from Instagram compared to Pinterest – even though Pinterest generates a lot of web traffic, my stats have shown that the referrals from Instagram convert much better into email subscribers, customers, and much more page views (whereas the referrals coming from Pinterest come to read a specific article, and then go right back to Pinterest to pin the article or continue on their search). I find Instagram is such a great way for a new audience to get to know you and by the time they reach your website they've already established a relationship/connection with you and are thirsting for more.
And lastly, since starting my Instagram account just a few months ago, I've made so many new professional connections and have had the opportunity to work with a few luxury natural skincare brands as well. This has been so invaluable, and wouldn't have happened without starting my Instagram account and doing everything properly from the beginning."
Did you have any ah-ha moments?
"My biggest take away from The Instagram Ivy League was learning to clarify exactly who your target market is (and making sure your IG account is in sync with your target market). I can't tell you how important this is (and something I see so many people and brands overlooking and making massive mistakes). Your IG account is telling a visual story about you or your brand, and if that isn't consistent with your brand or the products you're selling, it could turn potential customers off or be very confusing.
I also really appreciated Alex's strategies for gaining an authentic following and building a strong community. Her strategies are extremely targeted (not using bots, robots or programs) but knowing who your target market is, and how to find them and connect with them on Instagram. This ensures your following consists of a real audience that wants what you have to offer, and not a following of a bunch of random people (which is surprisingly quite common!)"
(Check out Natasha's quality engagement! Comments from real potential customers and nearly 600 likes!)
How has your business changed or improved since taking the course?
"Since taking the course and learning to be very clear about who my target market is, it's not only helped me create a very consistent Instagram feed, but also really helped me organize my entire business and make sure everything I'm doing and offering is in line with that target market.
Not only that but daily sales for my courses and coaching packages have increased, I've doubled my daily web traffic and email sign-ups, and I feel a much stronger connection to my audience. I've also seen a substantial increase of followers on all my other social media accounts, which I know is coming from Instagram."
What's next for you and your business?
"Right now I'm working on a 60-Day Clear Skin Email Course. I offer a Free 5-Day Acne Solutions Email Course which has been a hit with helping my audience to start clearing up their skin, not only giving them great diet and skincare strategies, but the feedback I've been getting is that the daily emails keep them motivated and on track with making all the diet and lifestyle improvements. So, the next step now is to make the full course and launch it early 2017!"
About Natasha
Website: www.theclearskinessentials.com
Instagram: @theclearskinessentials
---
Um?? How amazing is Natasha?! I am so proud of the work she's put in and the results she's seen. Natasha started in the same place as you and I – without a real strategy when it comes to Instagram. She did however have a goal of creating awareness for her business and eventually turning a profit. After implementing the steps in The Instagram Ivy League she now has a thriving business that she (and I!) are happy to share with others, and you can too!
If you are ready to take the reigns on your Instagram strategy, sign up for The Instagram Ivy League!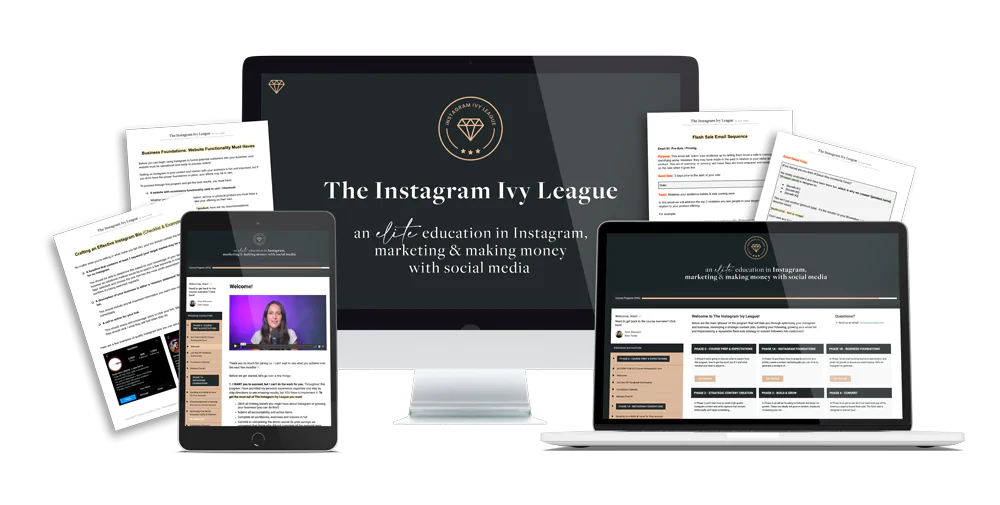 What do you think of Natasha's Instagram Success Story? Do you have a similar story? Let me know in the comments!