Have you switched to an Instagram business profile yet? There is a lot of talk about this feature. Some people switched the second Instagram asked them to, and others aren't quite so sure. Let's break down everything you need to know, plus what I personally think of the feature:
If you're not familiar with the new business profiles, basically IG is allowing you to have a slightly different profile that includes:
A contact button in your bio that allows people to directly email you, call you, or get directions to your business
An industry "tag" that tells people what niche you're in
A clickable business address
In-app analytics that tell you details about your audience like their demographics, the time they are active on the app, and the individual impressions/reach of each of your posts
The opportunity to "boost" your posts and show it to people outside of your audience for a fee ($$$)
*If you want to switch to a business profile right away, scroll down to the bottom of this post for a quick tutorial. If you're interested in hearing more about my opinion and the potential pros and cons of a business profile, keep reading!
Fun fact about me: I am a littttttle skeptical about new things.
Don't get me wrong, I LOVE trying new things like foods and adventures, but when it comes to new "versions" of things (like the latest iphone update) I usually shy away for a while. I like to let others be the guinea pig while I sit back and observe..
..and that's exactly what I did when Instagram started releasing their business profiles.
But the business profile features sound pretty good, right?
In theory, yes. I think that if you're a small business such as a retailer with a physical location switching to a business profile might be a great idea for you! The contact button is particularly appealing as it allows your customers to contact you at a click of a button without having to navigate to your website and through multiple pages before finding your contact info.
Here's my skepticism though: remember Facebook Pages? They used to be an amazing way to connect with your current and potential customers, then Facebook drastically decreased the amount of people your posts would reach. In fact it's be documented that most Facebook pages only receive 2% organic reach now. Yikes!
They then implemented a "boost" feature and started encouraging people to pay in order to get their content in front of more people. This is often referred to as "pay to play" and is one of the few ways people can successfully get their posts in front of their audience on Facebook. Kinda sad hey?
Now I'm not trying to be overly dramatic or start spreading rumors, but I'm not the only one who thinks that Instagram may begin to treat business profiles just like Facebook Pages. (Instagram is owned by Facebook you know!)
So, let me get to the point:
I personally am NOT switching to a business profile at this time for the following reasons:
1. A contact button is great but it doesn't provide a ton of value for every business. I get a lot of emails every day so I generally try to funnel any enquiries towards the FAQ page on my website instead of having them email me directly. I do however think this feature is great for people who have an actual office or retail store with a customer service rep ready to take the calls. 
2. Sharing your address is not a necessity for most online business. Do you sell your product from your website or an etsy store? Listing your personal address would be like inviting strangers over to your house. No thanks!
3. You can get Instagram analytics from third party websites & this feature will eventually be offered to everyone, even without a business profile. My @menandcoffee account was recently given access to the same analytics business profiles get, without having to switch. This likely means we will all get access at some point, regardless of if you're set as a personal or business profile. In the mean time, third party apps like Iconosquare or Squarelovin provide pretty great analytics. While they are not identical to what you get with a business profile, you can make up for it by using Google Analytics. Any traffic that comes from Instagram to your website is trackable and you can see exactly what their gender, age, location, etc is.
4. You can still create Instagram Ads from within Facebook. The ability to get your posts in front of a wider range of people still exists without having to make the business profile switch. Never set up an ad from inside Facebook? Here's how.
5. Switching to a business profile is not going to immediately increase your sales. While the contact feature will allow your potential clients to reach you more easily, that doesn't mean you're automatically going to start selling more. To make money from your Instagram efforts you need to be attracting a targeted audience and providing them with highly quality content that converts. Want to learn how to do that on a daily basis? Check out my course The Instagram Ivy League!
Ok, so having said all that, let me be clear: this is my personal opinion and should be taken with a grain of salt.
If you already have a business profile, that's awesome! Do not feel like you've made a bad decision or that your business is now doomed. It definitely isn't, and even if it was, I got 'chu.
Still want to switch to a business profile? Here's how:
All you have to do is make sure your phone and your Instagram app are updated to the latest versions. Then, navigate to your account (the man icon in the bottom right) and click on the cog in the top right. From there, scroll down until you see "Switch to Business Profile"
You'll then be prompted to connect your Facebook Page and all of your additional contact info. (You must have a Facebook page to use an Instagram Business Profile) 
That's it!
Please note that this was not written to be cynical, but instead to inform you, as your Instagram Mentor, the possibilities that are connected to making these business related switches.
PS. If you feel the need to switch to an Instagram business profile solely because you're hoping to see an increase in actual engagement or sales, a business profile is not necessarily your answer. Learn exactly how to reach your target market and convert them into paying customers with my course, The Instagram Ivy League.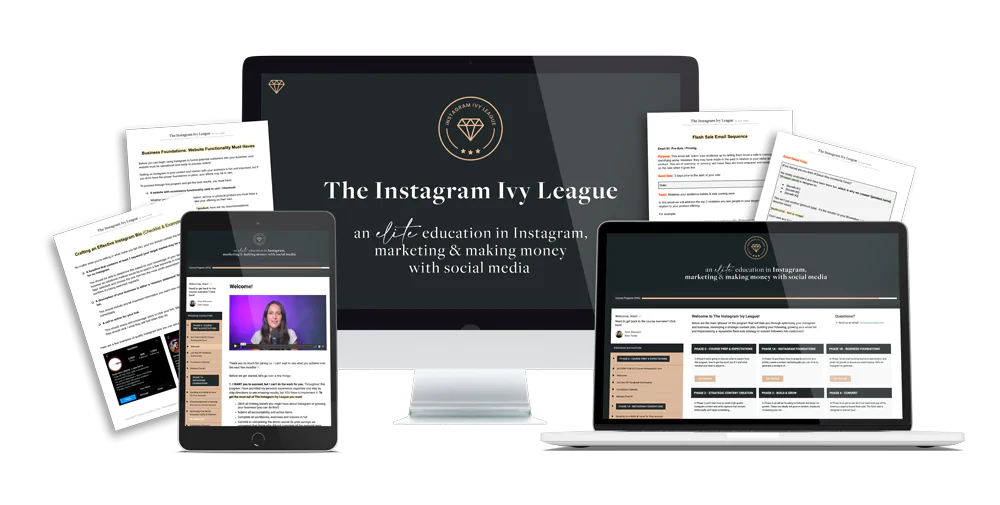 What do you think? Have you switched yet? What's been your experience so far? Let me know in the comments!