*Disclaimer – some of the accounts on this list may have surpassed 10k by the time of your reading 
Do you believe it's impossible to make money with Instagram unless you have 100k or more followers? Or perhaps you believe it is possible, you just don't know how to make it happen for you and your business?
Listen, I get it! If you told me in 2010 (before Instagram came out) that one day there would be an app where people share pictures and it could make you enough money to quit your draining 9-5, take care of your family and enjoy life on your terms, I'd probably burst out laughing! But here we are and I've managed to do all of those things with the help of Instagram!
I'm not the only one either. In fact, many entrepreneurs are making it happen far quicker than I ever did!
To show you that it is possible, I've put together a list of 10 amazing small businesses from varying niches that are absolutely killing it at making money with Instagram. The best part, they all have less than 10k followers! So, if you're sitting there with just a couple hundred followers, know that the light at the end of the tunnel may be far closer than you ever imagined!
These 10 accounts were chosen based on their uniqueness, quality of photos, use of cohesion, the way they communicate with their audience and how they encourage sales! Need biz inspo? This is your list! In no particular order – the September issue of the:
Top 10 Under 10k!
@kaihlatonai
Kaihla Tonai is an intimate wedding and elopement photographer based in Calgary, Alberta. Her feed is successful because she effortlessly weaves together her expertise with her free spirited personality. Her earthy toned images are the cherry on top that keeps you scrolling for ages.
@coutukitsch
Coutu Kitsch is a jewelry brand started by Dorian Kitsch (the beautiful lady in a lot of their photos) along with her business partner Kofi Oteng. This account is successful because their photos are a gorgeous sampling of lifestyle shots, flat lays, and user generated content that show off their unique, yet on trend pieces.
@sunnylenarduzzi
Sunny Lenarduzzi is a video marketing whiz that's made an impact on almost every social platform. Known for her awesome youtube videos, Sunny built a successful Instagram account by sharing valuable tips, showing off her personality and sticking to a unique landscape photo theme.
@taylorsomae

Taylor Winkelmeyer is the fashion blogger behind My Cup of Chic. Taylor's feed is successful because she is relatable. She photographs herself doing everyday things like grabbing starbucks, going to the beach and taking polaroids with friends. She ties it all together in a stunning monochrome theme with splashes of blue and monetizes most of her posts with liketoknow.it
@parfaitproducts
Justin and Ixchel Aradi are the duo behind the stunning wedding cinematography brand, Parfait Productions. I dare you to watch any of their videos and not shed a tear (serious, they're that good!) Their Instagram feed is a success because the mix of breathtaking video and gorgeous still images exude experience and keep you captivated for hours.
@studiolmh
Lindsay Humes is the creative genius behind the White Oak Creative Blog & Brand Studio. Her account is successful because it shows off what she does best – design and branding! Her photos fall into a beautiful muted color theme with loads of white space that act as a stunning portfolio that effortlessly attracts new clients.
@analogcoffeeyyc
Analog Coffee is a cafe that has taken the Calgary coffee scene by storm. While still small, they are often compared to the likes of Alfred Coffee and Blue Bottle Coffee (major cafe chains that infiltrate the Instagram feed's of millions!) Their account is successful because they show off the entire experience you get when visiting an Analog cafe. From the staff behind the counter, to guests enjoying their brew and photos of perfectly poured lattes, you know exactly what to expect when you walk in and that builds a connection that breads life long customers.
@palermobody
Jessica Morelli, the creator of Palermo Body Natural Skin Care has done a fantastic job with her small but mighty Instagram account.  It's successful because her high quality photos give off a feeling of total luxury and practically do all the selling for her. Her captions are light and relatable and she makes sure to keep her audience up to date on what she's doing and where they can find her product.
@theprintsandthepea
Mollie Boone is the talented mumpreneur behind The Prints and The Pea. Her watercolor's are absolutely stunning and her feed shows them off in such an effortless way. Her feed is successful because she varies her photographs from in progress, to close ups, to framed and on the wall. She also makes great use of her caption by informing her audience about her pieces while weaving in short personal ancedotes.
@soulandsparkleofficial
Chloe Somerfield is the bubbly life coach behind Soul and Sparkle. Her feed is successful not only because of her gorgeous blush and gold themed photos but also because she provides value in every caption and get's her audience thinking and connecting with her on a deeper level.
So as you can see, it doesn't matter what industry you're in or what product you sell, it's all about how you position and present yourself and your brand on Instagram. If you want to make money with instagram but need help getting there, check out my course The Instagram Ivy League!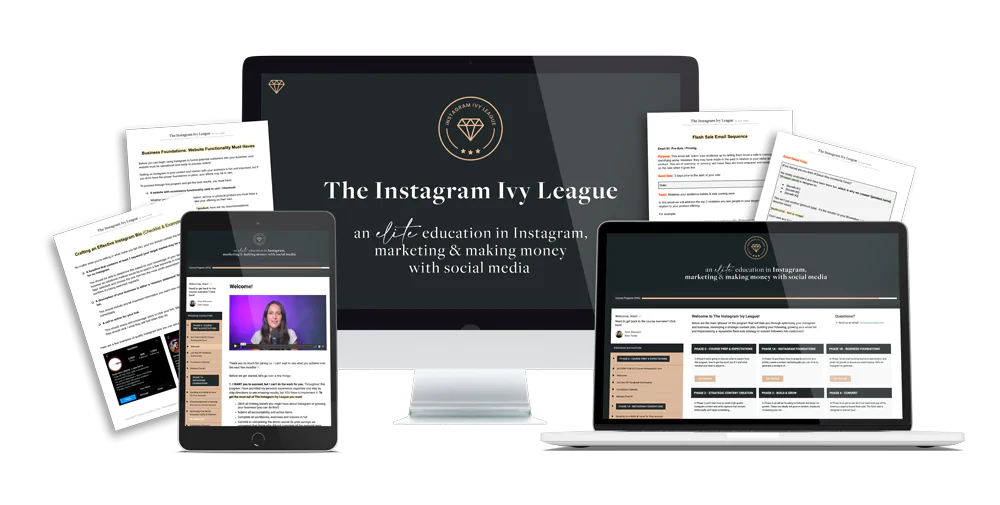 What do you think of this list? Know of any other accounts that should have made the cut? Let me know in the comments!